Annika Hayman
5 Step Freedom Guide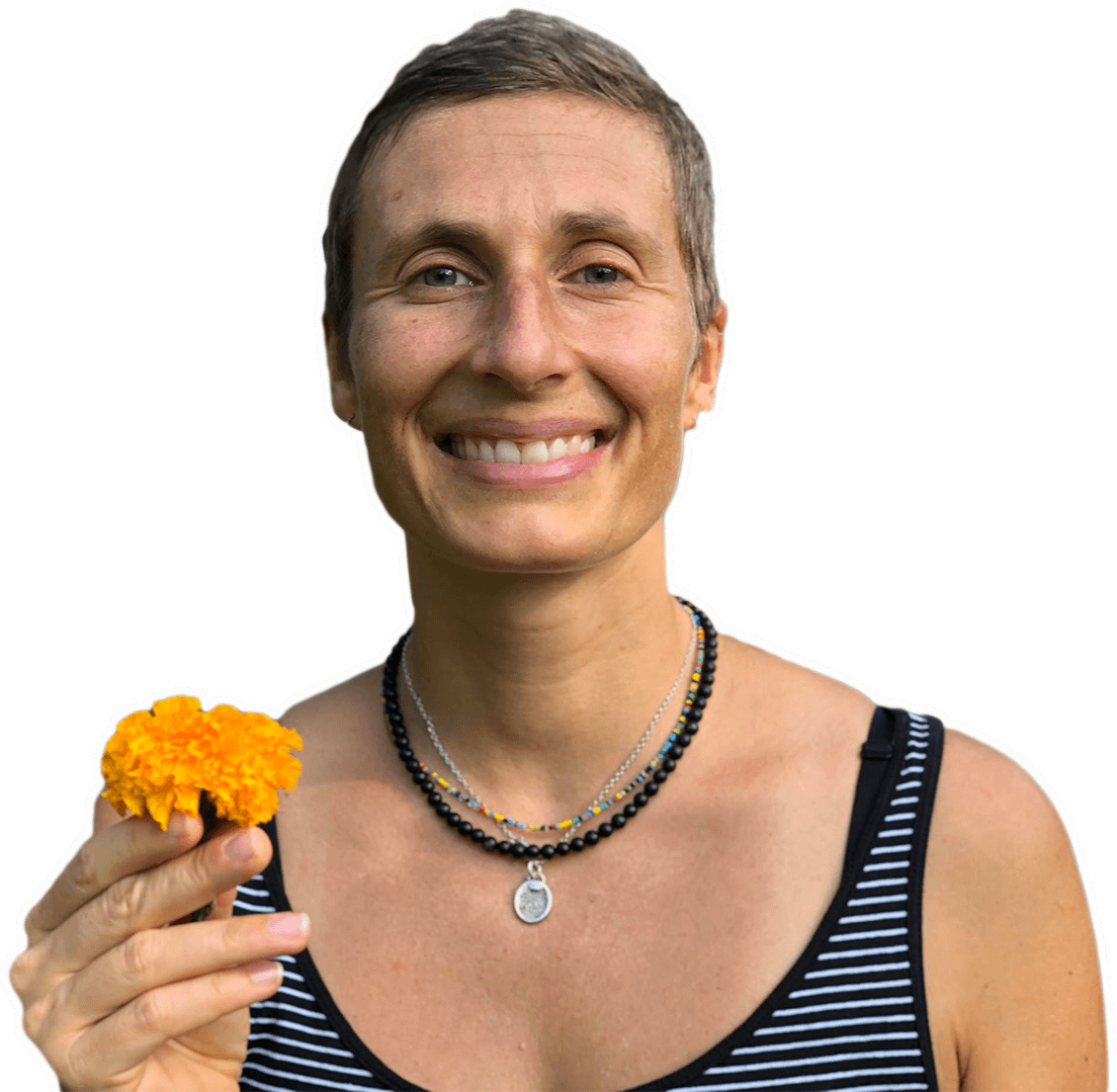 5-Step freedom Guide
Your FREE path to Freedom
Welcome beautiful Soul!
If you are here, I know that the topic 'Freedom' resonates with you and that you are looking for answers in your life. I would like to share with you my very own proven 5 Steps to Freedom.
You probably feel stuck in at least one area of your life and wish to feel more free.
Being a mother brings a lot of  "nurturing others" with it and often less attention for yourself, but it truly doesn't matter what area of life you would like to feel more free in… perhaps some of the following:
Relationship to your partner
(maybe he is too clingy, you feel like having to please him all the time, he doesn't want to parent the way you want him to, you are fighting too much, your partnership feels boring, sex is bad, you can't open yourself fully, …)

Relationship to your child(ren)
(maybe you don't feel appreciated by them, they don't listen to you, they don't make the choices you feel that are good for them, you want to feel more connected to fee their needs, …)

Relationships to parent or friend(s) or co-workers or your boss
(maybe you have problems with your mother that are rooted in your childhood, …)

Relationship to yourself
(such as finding your balance, improving self-image or confidence, loving yourself, …

Trouble at work, entrepreneurship, …

Finding your passion and living it
(making money with what you love, …)

Simply being a mom or caretaker of others
(maybe you feel unappreciated for all that you are doing for them, …)

Finances
(maybe you don't make the money you want to make, you can't find the job that pays you more, you want to be financially independent to travel the world or to help others in need, …)
You are not alone!
I've been there. Everybody I know has.
Working on yourself with the help of these 5 steps will allow you to confidently co- create the life you dream of and you will be able to live your Freedom!
The biggest challenge is often to find the underlying cause behind problems and creating the motivation to implement longer lasting change.
Please go slow and let the different tasks grow on you. Put some thought into each answer and be thorough as you work on your responses. Don't try to finish this in a couple of hours as this guide represents your "new beliefs", your new life.
You want to build a strong base for lasting change and this takes time.
As you go through the steps, truly remember to be loving and kind with yourself!
You've lived this life for a while and got to the place you are over many years, so be gentle in directing yourself to your new passion driven path.
Know that it's never too late to start working on yourself and on the experiences, you want to have in this life's time.
Have fun and enjoy! I wish you lots of "Aha!" and enlightenment moments!
Know that you are great! You are loved! And you are the only one being best at being you!
You are unique and You can do this!
And know that I am here for you! You are not alone!
If you get stuck, feel overwhelmed or unsure, please get in touch through the WhatsApp button on my website or send me an email to [email protected].
One last bit of advice:
Please know that this is a very intensive and detailed guide that might
overwhelm you at first, especially if you are somebody who is more of a perfectionist.
Not every question needs to be answered!
Listen to your intuition and explore each topic in your own way.
This might mean that you make up your own questions and answer those.
Let yourself be guided by me and your heart and be gentle with yourself.
Change will happen.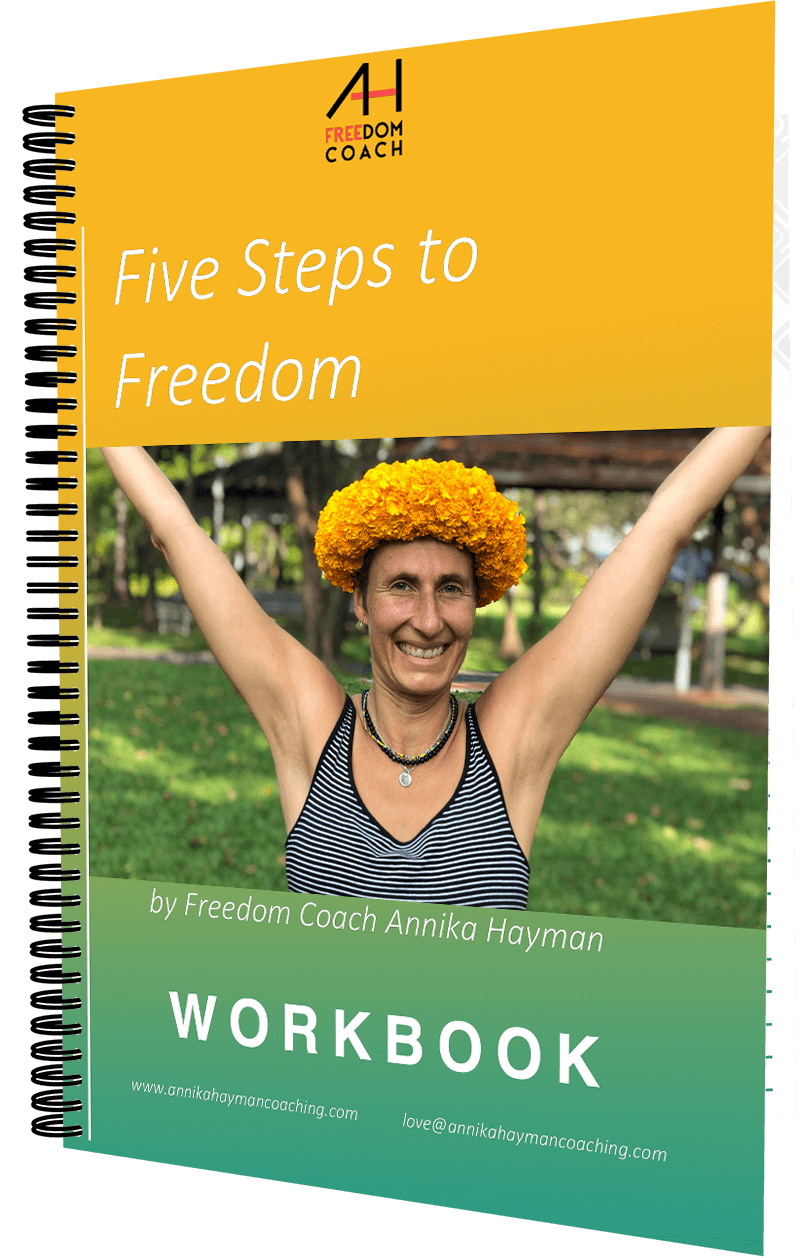 Step 1: Create Consciousness
The Now
'Take a picture' of your present moment. Be mindful and don't judge yourself!
Just take it as it is. There is no good or bad at this time. Objectively looking at what your life is like at the current moment is a great skill for reflection. (Later you'll have the time to set goals to change anything you take a look at now…) Feel free to use the questions below as a guide.
view instructions
Where do you feel in charge of your life?
Do you feel like a victim in certain situations?
What do you love to do during your day and want more of?
What do you hate to do, but still do anyway?
Notice what you do on auto-pilot and when are you totally in the moment?
How many hours do you spend consuming (e.g. eating, shopping, watching TV, playing video games, social media, telephone, etc.)?
Where do you feel stuck in your life?
What roles do you play in your life right now, besides being a mother to your children?
How would you describe your relationship to your children?
What's your motivation to change your life?
To calm down your mind and living a more non-reactive lifestyle, I recommend starting a meditation practice, if you haven't done so already. Meditating regularly has truly helped me feel more myself, grounded and present in the now. (YouTube is a great source for guided meditations.)
Step 2:
Get to Know Yourself
Values and Rules
Very often I hear 'I don't know what I want.' Especially Mamas have been so in sync with their child(ren) that they have forgotten what their own needs really are, always looking out for the best for their child(dren).
When you feel this way, connect to yourself. Quiet your mind and connect to your heart. All the answers to your questions are within you! (Just sometimes they are hidden behind some blockages that your mind is making up for you.)
view instructions
Exercise:
Make a list of your life's values.
What is really important for you in life? How do you want to feel? How do you want to be treated and treat others?
Examples from my list: 
I 

stay true to myself and don't let society interrupt me when it comes to parenting my children.
I connect with my children and find out their true needs, and will not punish them for their behavior which is only a symptom, not the cause.
I fill my cup first, before I can take care of others, because I am important.
Every challenge that comes my way, brings growth with it and I can see the positive in it.
I question rules (that feel wrong or impede my intentions) and if I am not doing any harm to others, I change them for myself.
My husband is a priority in my life and I constantly need to focus do my part to keep our relationship fulfilling.
I act from a place of love and avoid assumptions.
I ensure I am clear in what I need, and that I communicate it to others. I do not assume they can read my mind.
My list above is incomplete and in random order. When you are done with yours, rate your values and figure out what's most and least important for you.
Make sure you question every value that you have listed. Ask yourself if it is really your own value or was it instilled by your parents, society, church, school, friends, etc. This may not be easy, but it is time to say goodbye to everything that is not really your very own. This includes patterns, beliefs and habits.
Start living by your own rules! The next time you get into a situation of not knowing what you want, go through your list of values/rules and make decisions based on them. This will get much easier with practice and in time you won't have to look at your list to know your actions are aligned with your values.
Continually review your list. In different phases in your life, your values may change and so will your list.
Step 3: Define your Freedom
Dream Big
I am inviting you to make up your mind and write down a Hollywood version (an ideal version) of the life you would like to live. Try to use as many descriptors of feelings as you can. It's really important at this time that you feel the Freedom. Dream Big! The questions below could be a guide for you. Be aware that several 'things' you wish for may have the same kind of feeling behind them.
Try to get down to that very feeling of your Freedom.
view instructions
 What does feeling free mean to you? For example, is it a feeling of balance? Feeling grounded? Feeling in the moment? Be very explicit and detailed.
How many moments of freedom do you already create daily? Consciously and Unconsciously.
Can you create more of these free moments?
What's your biggest goal for the future? (If you can dream it, you can do it!)
Define a small step to get closer to your goal, that you can do today. Ask yourself this question every day! (Most goals are reached through a series of many little steps.)
Examples:
I absolutely love to paddle-board on the ocean waves while I feel the wind and the sun in my face. It's this challenge of working with and against the powers of nature to balance myself on the board which totally excites me and makes me feel free. My feeling of freedom: connecting to the power of nature, soaking up the energy of the sun and wind.

I feel free when I can serve my clients from different places and don't have to stay home when working. My feeling of Freedom: I want to be location independent, because this makes it much easier for me to travel the world and fill my hunger of adventure between 'working hours'. 

I feel free when I feel balanced. A perfect day for me includes: Alone time, serving my clients, time with my kids, time with my husband, time with friends AND time in nature.
Dig really deep to find the feeling that you are longing for.
When you have defined your Freedom, consciously make a point of working towards your goal, achieving these feelings, starting with Step Four.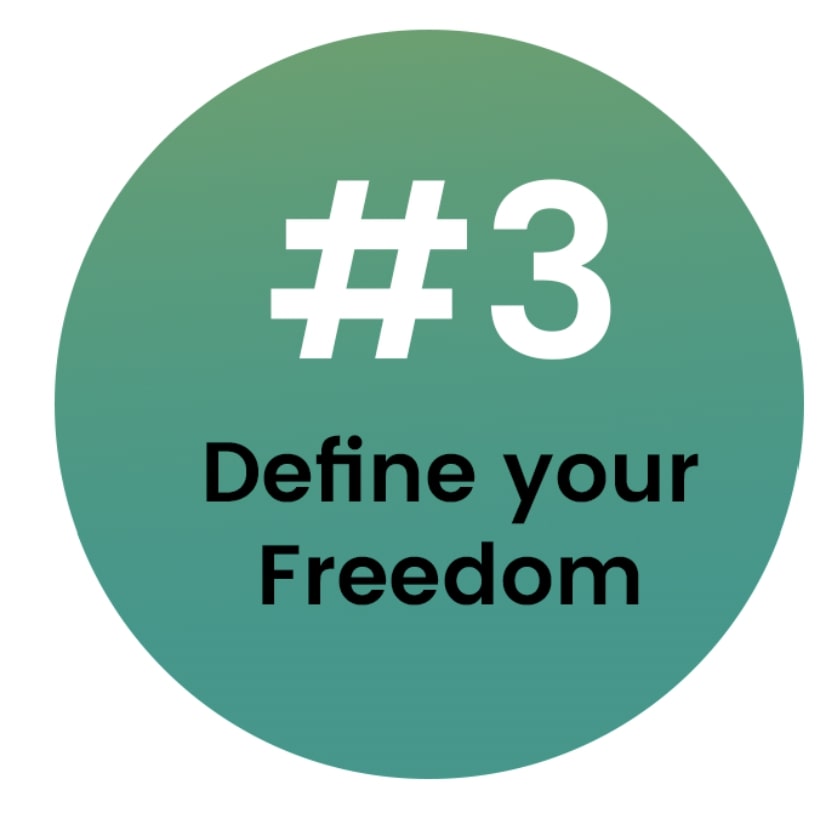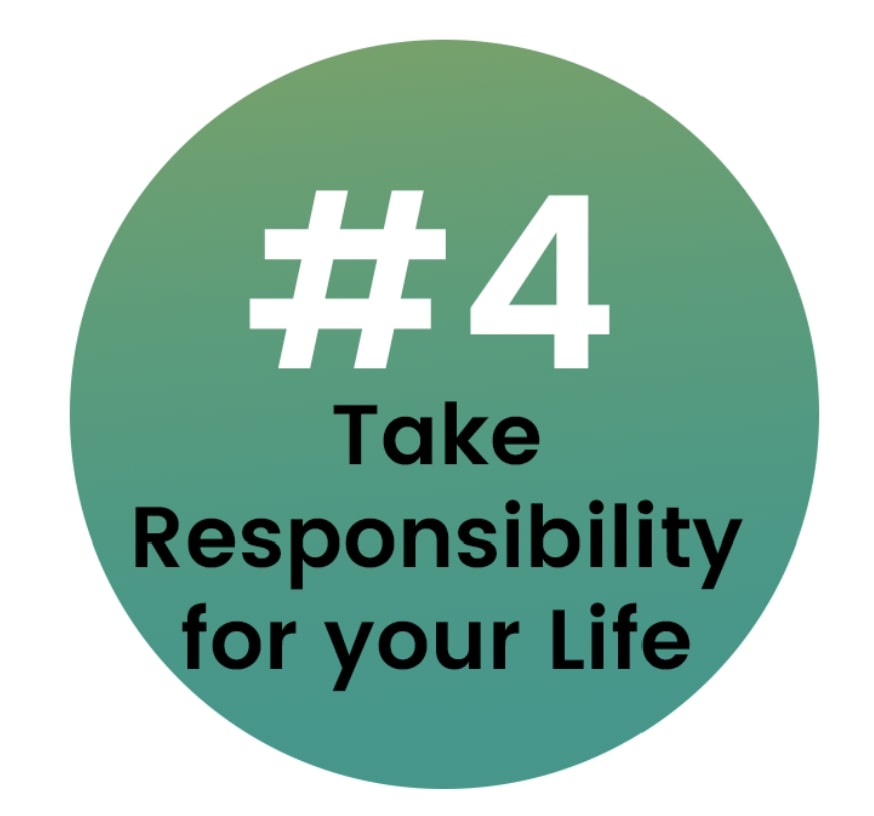 Step 4: Take Responsibility for your Life
Selfcare
It's time to actively and consciously put yourself first. You are the most important person in your own life. Selfcare means that you are taking care of yourself, which includes that you are taking care of your goals (that you created in Step Three), which means that you live a happy and free life.
Nothing just happens to you. You create your own reality. This might be hard to accept, but with whatever you (sometimes unconsciously) do or NOT do, you are steering your life in a direction that you might not like. (To learn more about what you create in your life, that you might not even be aware of, read my blog article 'We are creating our own reality')
view instructions
I believe one of the most important steps to feeling great, is to fill up your cup with love, patience and empathy every morning, prior to trying to serve others (your children, your family, your partner, your clients, your colleagues, etc.) the rest of the day.
If there's nothing left in your cup, there is nothing to give! Start your day full and abundant!
You also need a full cup if you want to conquer your goals of living your freedom! Fill up on energy and you'll see that you have the power to create and live your Freedom!
Exercise:
Create a nurturing morning routine for yourself and live it. What would fill your cup up in the morning? 
A meditation? A cup of tea in peace while reading a good book? Working out? Dancing? A walk with the dog? Enjoying nature? Journaling? A hot bath or shower? A smoothie? A healthy breakfast?
There are countless options… be creative and find what's perfect for you! Try out different things to find what feels best. My experience is that I stick with a routine for a while and at some point it's time to change it up a little, so be open and listen to your heart and your body. (I also change it up in different phases of my cycle.)
 My morning routine (at the moment):
Drinking a cup of cold water while still in bed 

30min meditation in bed

Bathroom break

20-30min Workout (cardio or strength) at home

Shower

Healthy breakfast (oatmeal with fruits and a vegan greentea latte)

Playing a (board)game that I love with my children (or husband) while eating breakfast 
Of course, there are usually some interruptions, especially when my husband is not available in the morning to help with our children. So, I am flexible and sometimes this means that I get up an hour earlier than I would like.
After successfully having implemented your morning routine, you can take your selfcare further. Small chunks of time during your day to fill up your cup will be possible when you feel the positive effects of taking time for yourself. You will feel motivated and have the energy to find time to work towards your goal of living your freedom.
Block the time in your calendar! It's important to make a point of it to everybody in the family, so that you won't be interrupted and have your daily reminder.
Everybody will be on board when they notice how much better you feel. If you are finding resistance, have a talk with your family. Explain and make them aware of your mood and energy changes.It will be so much easier to take care of other people's needs when your needs are met first.
Take one day at a time.
Step 5: Feel Gratitude & Celebrate
Self-love and Confidence
Feel grateful for the things and experiences in your life to put yourself in a higher vibrational state. In showing the universe that you are open for more by being grateful for what you have, the universe will answer. This is the law of attraction.
In a state where you see the gift you are given you feel better about yourself and build confidence about the steps that got you here.
Celebrate every little success, even the tiniest!
view instructions
(Join my FB group 'Creating your very own freedom' and share your successes with us! We'd love to celebrate with you! You can also share your doubts, your challenges, and your questions. We are an inclusive, non-judgmental group of loving women who love to connect and support one another.)
We don't celebrate ourselves enough, because it's frowned upon in our culture. People think it is egoistic, but it's critical on the path to greater accomplishments.
If everybody would celebrate themselves, our society would have much fewer problems with depression and low self-esteem.
Feel great about yourself, because you are!
Celebrate yourself for small things too, like doing something different than before in 10% of the time…
For example, 
Celebrate not yelling at your child for whining and instead going into connection with him and figuring out his need that is unmet in this particular moment. And then letting go of the other 90% and knowing that you are doing your best. 

Celebrate that you get through your morning routine at least once a week without interruptions.

Celebrate 

that you felt good about your body instead of having dwelled in negative self-talk about your weight.

Celebrate not falling into the pattern of wanting to be right in an argument with your husband and instead having letting go and having acted from a place of love.
Letting go and not judging yourself with bad self-talk will promote selflove which is essential to step into your power and to live your very own freedom.
Exercise:
Celebrate yourself!

Journal daily "10 Things That I Love About Myself" for 2 months. This practice builds your self-confidence and promotes selflove.

After 2 months, challenge yourself to continue journaling, as love feeds love and ask yourself, why would you want to stop?
With empathy, compassion and love for yourself, you will be unstoppable!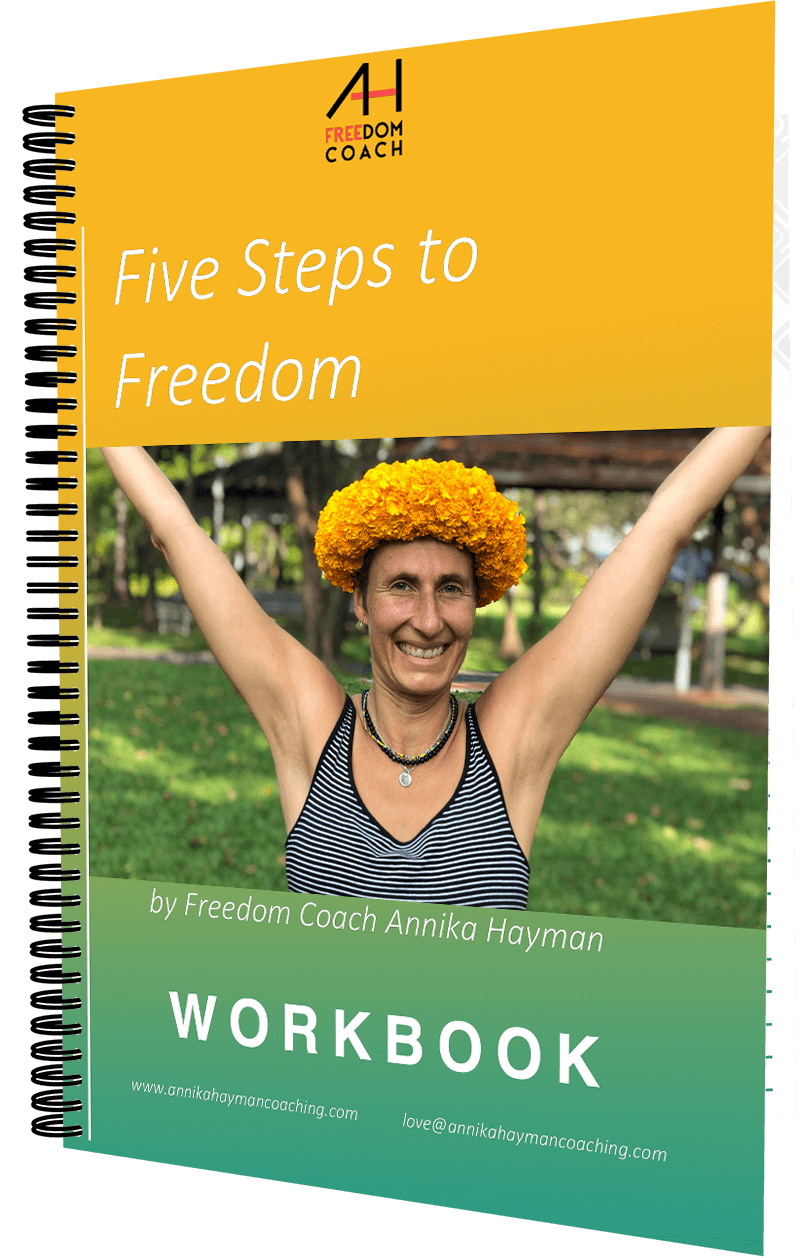 Hello again, Beautiful! 
You worked yourself through this 5 step program! You are awesome! How do you feel? I'd love to hear from you! If you like, share your thoughts in the FB group 'Creating your very own Freedom' or send me an email to [email protected]
Remember, this is not a one-time thing. When you commit to being the best version of yourself, constant evaluation of yourself is necessary. Self development and self-growth are only possible as a result of an ongoing lifestyle. It's a process that never ends. Compare it with getting in shape. It's not enough to get in shape once and then do nothing anymore. 
With being conscious and ongoing reflection of your actions, you can make sure that you are living by your own values, which means that you are aligned with your passions and dreams.
Your path is unique and you are the only one following it!
Ideally you have people who support you and some may join you for periods at a time, but you are responsible to keep going, whether alone or accompanied.
Are you still struggling?
Are you still trying to live a 'happy' life?
Did the steps add to your confusion?
Do you still feel like nobody appreciates you?
Do your old habits keep reappearing?
Do you feel like you want to go deeper and crush the blockages that are holding you back?
You have seen some better days, but nothing is consistent yet?
Of course, there can be very deep-seated limiting beliefs that are hard to crush on your own. And you may not even be aware of what's still holding you back.
Don't feel bad about yourself if this is the case! It is absolutely normal!
It's my passion to help you when you get stuck or need guidance. I realize most people definitely do not just read a guide and figure it all out on their own!
If you made a go at any of my steps, consider yourself awesome for starting your journey!
Remember, every accomplishment should be celebrated, and even reading this far, you have deepened your understanding of selfcare and self-development in your journey of life!
I am proud of you and congratulate you on any small and big successes on the way!
But remember, I am here to help!
I am here for you if you need guidance, if you get stuck, or if you have blockages that you can't put your fingers on yet and have no idea how to resolve.
I am ready to talk and help you transform your life!
Book a free powerful and transformative connection call with me!
I will ask you the right questions to go deep and experience healing. I will guide you in finding your own answers and setting your own values. We'll make an action plan on how to implement your learnings into your day-to-day life. And I will certainly be there to cheer you on and hold you accountable to do your work, if you wish to work with me.
Please send me a message to
[email protected]
and we'll go from there.
In our first consultation (60min) I'll give you a powerful coaching experience. This way we'll have the chance to get to know each other and you'll know if my style of coaching resonates with you. If desired, we'll schedule another shorter session to review goals and determine if we would like to work together in a more formal program and what your financial investment would be.
If you are not yet ready to work 1:1 with me,
please see info about my 'Free your Mama-Bear' coaching group here.
In a group with like-minded mamas we discuss problems specific to mothers and also as women in general. We talk about fears and problems that arise when we wake up as powerful creators and how this affects our family and surrounding community. And much more! It's a lot of fun and very transforming!
Please know that you are worth every penny you invest in yourself, in your life and in realizing your own Freedom!
With you doing the work, everybody around you will change too. Dynamics in relationships (with your kids, your spouse, or others) will change. People will appreciate you for stepping into your power which naturally gives them the space to step into theirs.
You are powerful! And you are worth it to feel deeply happy and free!
Please have a look at the programs I offer here and let me know what resonates with you.
To apply for any of my coaching programs, please send me an email to [email protected].